Types of Classes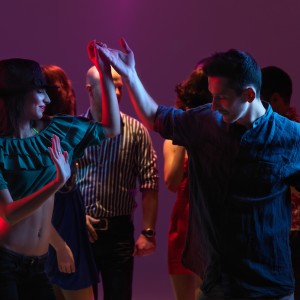 Private Lessons
Private lessons are one of the fastest ways to learn how to dance and are a great source of exercise. Private lessons focus on the dance or dances that you want to learn. You will receive that one-on-one attention that will make you the star of the dance floor.
During your lesson your instructor will show you how to follow/lead, help you understand the timing and rhythm of each dance and  review the steps you have learned. Whether it is your first time on the dance floor or you are an experienced dancer, your instructor will be able to teach you at your current level and beyond.
Group Class
Our group classes are filled with fun, music and new steps to add to your repertoire. Group classes are a great way to meet new people who are dancing at your level. We offer many different levels of group classes. The steps you learn in our group classes are designed to prepare you for the next level. These classes are also a great way to get comfortable with following and leading, either with your partner or a fellow student. It is common to switch partners in class but it is not necessary! Each group class consists of 2 dances at 30-minute intervals. Our monthly calendar will let you know what dances are being taught. When combining private and group classes, your ability to retain and advance in your dancing happens much quicker.
Parties
Come cut a rug with great music and fun people!
Our parties are the perfect place to practice all the steps you have been learning. They will help you learn to determine which dance goes with what music. Parties are also a great way to get comfortable dancing with other partners. You will be able to dance with the instructors, as well as other members of our studio. These socials are a great way to meet people, show off your moves, and just have a great time!